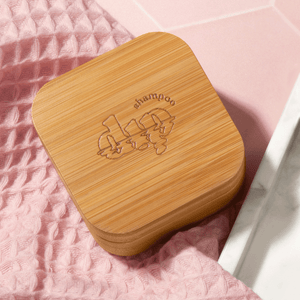 For long stays away...a better way to travel with your bars. Durable, thick-walled Bamboo Travel Cases for the Full Sized Dip Shampoo Bar. STOPS THE "SQUISH." Honestly, trying to travel with bars is a nuisance...especially when they need to go through baggage claim. This carry case will protect your bars during transit.
Sometimes the Mini Dip isn't big enough for your trip....sometimes you just don't want to have to buy an additional bar just for vacation.  We don't want you to either so now you can bring your big bars with ya! "POKE HOLE" UNDERNEATH. Not as sexy as it sounds...this is a draining hole in the bottom of the container that allows you to push up the coaster from the bottom. The bamboo round on the top helps prevent the bar from sticking to the top of the container if it gets jumbled in transit or your bag gets turned upside down. Please do not remove!
Comes with a little coaster that lets water escape so your bars don't have to ever sit directly on tile or the ground in an outdoor shower.  A waterlogged bar is an unhappy bar.
Fits the 4oz Shampoo Bar perfectly
This will last as long as you keep it dry and take great care of it
Please do not put the entire box in the shower