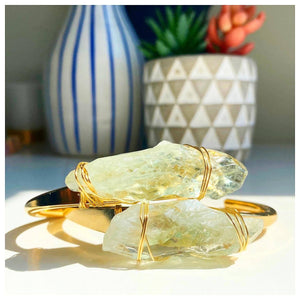 A dynamic luminous green Amethyst crystal is the focal point in this eye catching cuff. An easy way to rock your favorite crystal, these gem stones are securely and tightly hand wire wrapped to the vintage brass cuff base. The substantial weighty cuffs themselves are from the 1970s originally.
Dimensions:
2.75" across, 1.75" opening, 2" tall 
Handmade in NYC
The actual cuff you receive may exhibit slight variations from the image, as crystals, stones and gems naturally differ in appearance.