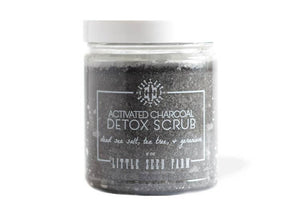 Exfoliate, moisturize, and detox skin in one step with Little Seed Farm Activated Charcoal Scrub.
Encourages skin health and healing, by improving circulation, delivering essential minerals, and gently removing environmental toxins from the skin's surface.
Greatly assists in clearing acne on the body.
9 oz | 255 g ℮
Please do not apply to open blemishes or scratches as the salt will cause stinging. 
Key Ingredients:
Activated Charcoal: Activated charcoal safely draws out skin impurities, helps heal troubled skin and reduces inflammation.
Dead Sea Salt: Delivers essential minerals (magnesium, potassium, and bromide) to skin, promoting healing and circulation while gently sloughing away dead skin cells.
Ingredients: Dead Sea Salt, Organic Coconut Oil*, Organic Sweet Almond Oil*, Activated Charcoal, Organic Tea Tree Oil*, Organic Geranium Oil*, Organic Lemongrass Oil*.
*CERTIFIED ORGANIC
CONTAINS: COCONUT, TREE NUTS
How to Use:
After cleansing, massage a handful of detox scrub into skin working from your feet up. Let the treatment sit for a few minutes before rinsing for maximum effect.
This treatment is so moisturizing, you won't need to apply lotion after your shower. We recommend using once or twice a week for optimal results.
Please take care when rinsing as the scrub may make your shower floor more slippery than usual.